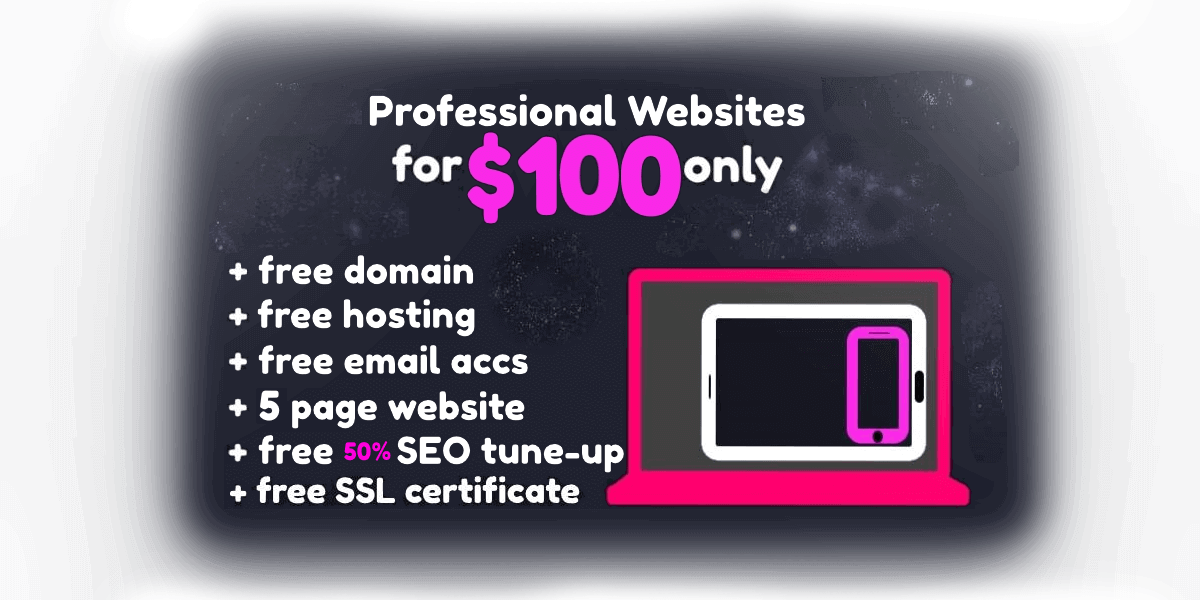 $100 Website Development
Affordable $100 web design:
five pages
Free web domain
Free web hosting
Free email
50% SEO
Free SSL Certificate
$100 Website Development Features
This is the best selling package at CEE Creative Zimbabwe Web Desisgn. It is an intermediate level website that allows a business to be more visible when customers search on Google. Five pages are okay for business and few enough to serve the purpose of that particular website. It is still harder for a five page website to hurt SEO. For example, a business that manufactures rubber stamps, Trodat Zimbabwe, does not need more than five pages, just a home page, products page and a contact page is enough. On $100 package we cover a generous quota of SEO techniques including all the basics to optimize a website.
Website Domain
A Website Domain or web domain is the address for your website, your digital fixed assests. Choosing the right address is the first most important decision to make before getting your designed website online. A domain name should not be too long to confuse customers trying to visit your website, but should be as short as possible while representing your business. Special characters such as "-" should be avoided. cee.co.zw is a better pick than ceecreativezimbabwe.co.zw
Website Hosting
Website Hosting or a webhost is a server class computer designed to host all web design aspects of your website and serve web pages to your website visitors. A webhost stays on 24/7 while connected to multiple high speed Internet connections to ensure your website is always accessible. A webhost is also responsible for hosting you email accounts as well as databases that store your data securely and efficiently.
SSL Certificate HTTPS
An SSL Certificate also known by web users as HTTPS is responsible for making sure that connections between your website and its visitors is always secure and private. Third parties can not intercept messeges sent between your website and its visitors. The main advantages of using an SSL certificate are that your customers trust visiting your website and search engines rank your website higher because it is safe for their users. Therefore an SSL certificate is good for your SEO web design.
Unlimited email accounts
We allow unlimited personalised email accounts accessible through your favourite email clients such as Gmail, AOL or Outlook. Personised email accounts help your business look more professional on the Internet and using email clients such as Gmail protects you from spam and malware
Five Page Web Design
A Five Page Web Design features a static responsive web design that covers all the necessary basics to get your business online. On the home page you can briefly introduce your business, and products or sevices you deliver. On the second page you can tell your customer more about your business and the last page you can show them how they can contact you or get to you.
SEO Tune-up
SEO or Search Engine Optimization is the last step after web design. We tune your website to make it appear on top of search engine results resulting in increase traffic to your website. A 50% SEO tune up covers all the important basics to make your website relevant to search engines.